Edinburgh Fringe 2016
Edinburgh Fringe 2016
Textual Healing PR
Aatif Nawaz Aatificial Intelligence, Newsroom, 8.45pm
Press from 5th August
Aatif Nawaz overcame the 'Cowgatehead' upset last year to pack the punters in to Muslims Do It Five Times A Day at The Caves. Aatif subsequently enjoyed exposure on numerous outlets including BBC Radio 4. He was recently featured as the voice of reason on the controversial Channel 4 programme, What British Muslims Really Think, an experience he wrote about for the Guardian.
Abi Roberts, Anglichanka, Voodoo Rooms, 4.15pm
Press from 6 August
This year Abi Roberts became the first UK comedian to perform in Russia – in Russian. Abi's relationship with Russia started in the 1990s, during which time she became a member of the Russian Orthodox Church, studied as the Moscow Conservatoire and found out how to survive -17 degrees using sawdust. On her recent return she discovered, among many other things, how difficult life is for the Russian Banksy and just how far you can go when talking about Vladimir Putin.
Alex Kealy, Underbelly Med Quad, 9.50pm
Press from 5th August
DEBUT – Alex Kealy's Fringe debut sees him grapple with sounding like David Cameron but thinking like Jeremy Corbyn. No wonder his love life has not been smooth. A star turn on Chris Coltrane's celebrated Lolitics political comedy club has helped cement Alex's reputation as one to watch. You can check out this link here from 18m 45s in.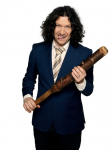 Ben Van Der Velde, Barbarians, White Horse, 5.30pm
Press from 5th August
According to scientists every Eurasian man shares about 8% of his DNA with Genghis Khan, which makes us all part barbarian – that's the intriguing premise of the new show from Jewish Geordie comedian, Ben Van Der Velde. Ben's preparations for his Fringe show have included walking the entire length of the London Underground network!
Dominic Frisby Let's Talk About Tax, Gilded Balloon, 4pm
Press from 5th August
Writer-performer, MoneyWeek commentator and Bitcoin expert, Dominic Frisby is going to make tax sexy for Fringe-goers, explaining how it has shaped the course of history, how it shapes society now – and how it will shape the future. Tax, he says, is the defining issue of our age. There will be jokes too.
Erich McElroy's (US) Electile Dysfunction, Bar 50, 1.20pm
Press from 4th August
Building on the success of his 'Imperfect Guide' shows that explain US politics to us Brits, UK-based American pundit and comedian, Erich McElroy is here to help us adjust to the new leader of the free world. Erich has commentated on the US Presidential race for BBC Breakfast, Sky Sunrise and BBC Radio 5Live, among other networks.
Fringe 2016 Geoff Norcott, Conswervative, Underbelly Med Quad, 7.10pm
Press from 4th August
Geoff Norcott's show last year, based on being the only declared Conservative-voting comedian in the UK, won him praise from all sides and coverage from The Daily Telegraph to the New Statesman. Geoff has since signed with a leading agent and is coming back with a highly personal, yet still political, show about his council estate upbringing.
Laura Le
xx, Tyrannosaurus Lexx, Mash House, 2.20pm
Press from 5th August
No-nonsense stand up Laura Lexx is back in Edinburgh for the follow up to her 2015 hit show Lovely. 2016 has already been a big year for Laura with her put-down of a sexist heckler at Brighton Komedia going viral and reported across national media outlets. A member of the acclaimed Comedians Cinema Club, Laura has written two plays and a novel and has had articles published in the award-winning women's magazine Standard Issue.
Liz Miele, Mind Over Melee, Underbelly, Delhi Belly, 6.40pm
Press from 5th August
DEBUT – mentored by George Carlin, the versatile and outspoken US comedian Liz Miele is known for her forthright routines, not least 'feminist sex positions', a huge viral hit. Liz has also enjoyed great success with her first album, Emotionally Exhausting. After foraying to the UK for club sets, Edinburgh 2016 marks her solo hour debut.
Nick Hall, Szgrabble, T-Bar, 3.30pm

Press from 6th August
Talented character comedian Nick Hall has the distinction of appearing at the Fringe in almost every guise – stand up, sketch act, character act, improv act and comedy play actor! For this year Nick has settled on a one-man Cold War romp which echoes the work of The Pajama Men.
Olaf Falafel and the Cheese of Truth, City Cafe, 4.15pm

Press from 5th August
DEBUT – Olaf Falafel is the man behind the meme. AKA 'Sweden's eighth funniest comedian', Felafel has over 75 million views (and counting) on Vine for such glorious goofball moments as these here. His debut show fuses man-and-meme for a narrative-driven piece that will owe much to cheese.
Pierre Novellie is Cool Peter, Pleasance Courtyard, 9.45pm
Press from 4th August
Pierre Novellie, a Chortle Best Newcomer nominee in 2014 and a Best Club Comic nominee this year, had a ball with his 4-star laden solo show Clever Peter, at 2015's Fringe. Fresh from appearances on BBC Radio 4, BBC Two and Channel 4, Novellie's show this year looks at what it is to be cool, a journey that starts with the superficial, but then goes a lot deeper than he expects.
Fringe 2016 Spencer Jones is The Herbert in Proper Job, Underbelly, 5.20pm    
Reprise of one of Fringe 2015's best-reviewed shows
Press from 6th August
Fringe 2016 Spencer Jones is The Herbert in Eggy Bagel, Heroes @ Hive, 8.50pm
New show for 2016!  Press from 6th August
Acclaimed clown and prop comedian, Spencer Jones returns with a brand new show, Eggy Bagel, and also a run of Proper Job, one of the best reviewed shows of the festival last year. Since then, Spencer has enjoyed attention for various projects including Sky's Christmas Shorts, Still Open All Hours and Ben Elton's sitcom, Upstart Crow. Spencer has also completed two long Soho Theatre runs and appeared with James Acaster on Live at the BBC on BBC Two.
Please note – 'press from' dates by time slot here:
PNs by Time Slot EdFringe 2016 copy 010816
Julian Hall, Textual Healing PR
Mobile: 07810 486658
textualhealing.co.uk
@TextualHealing2